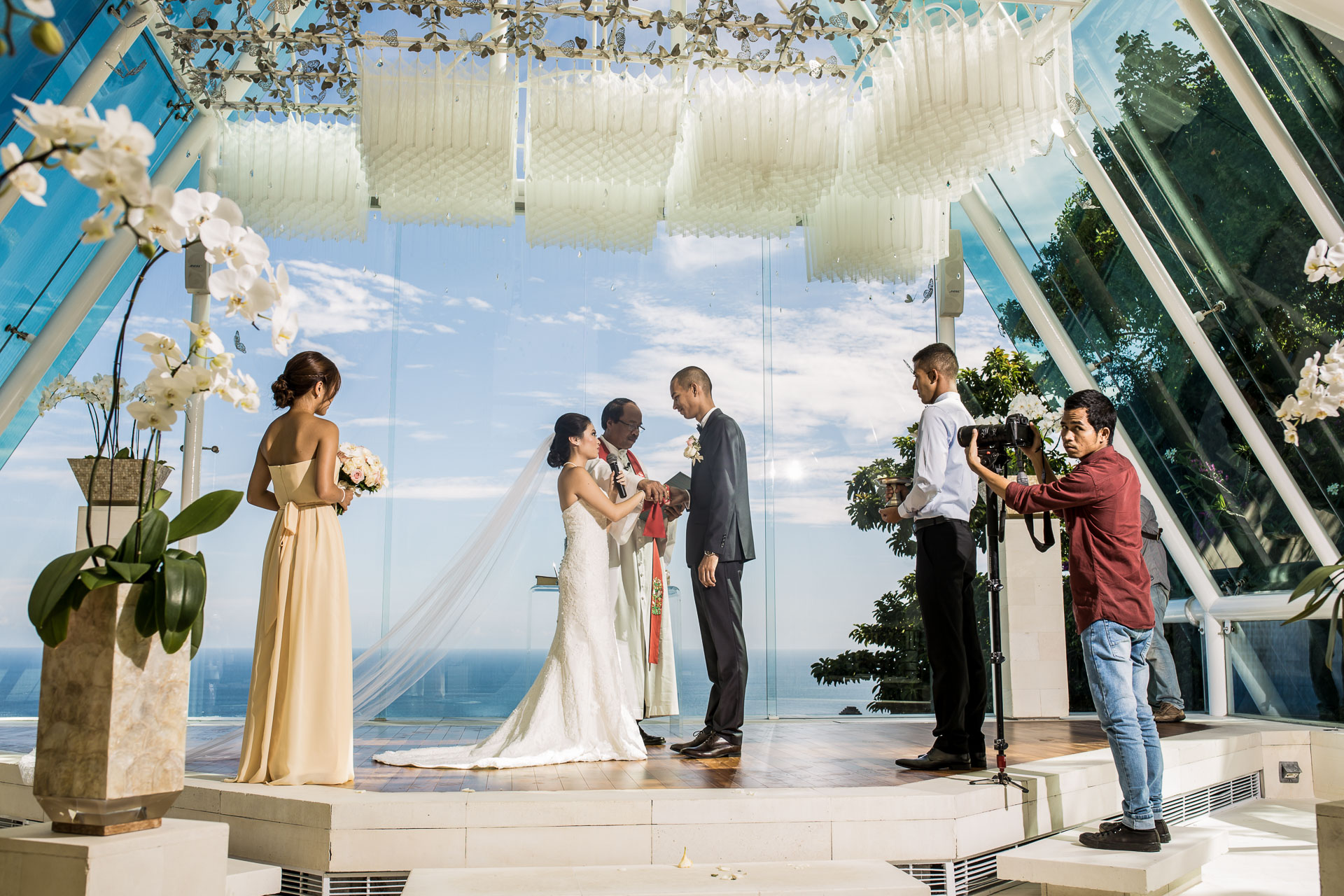 Choose the right wedding videographer in Bali
How to choose the right wedding video company in Bali
A wedding requires a lot of planning and you can have the perfect wedding only if you hire the right services. One of the most stressful decisions that a couple has to take is hiring a wedding video. Wedding video is costly and if you don't find the right service you may have to repent. Let's see how you can hire the best Bali wedding video.
Choose a video company whose style you like
Do you know the styles of wedding video? Do a little bit of research on it and you will come to know about different styles like documentary or cinematic. Watch a few videos of the video company you have shortlisted and hire the one whose style you like.
Talk to the video crews
Don't only go by the videos but talk to the video company and discuss the way you want your wedding video to be shot. You may want a mix of styles or have some other ideas. Share them and only finalize a wedding video Bali service when you are fully convinced of their skill and experience.
Check reviews
Today, most photography and video services Bali have their websites and blogs from where you can check their portfolio and reviews given by the clients. Go through them to find out red flags like not covering the important events, arriving late, or not cooperating with the guests.
Ask about their equipment and number of crews
Proper equipment is the key factor. Proper lenses will not distract your guests and photographer(s) as well. If you know a bit about cameras and the focal length of lenses then please ask your video company about what cameras and type of lenses that they will bring on the wedding day. How many crews or cameramen on the day. Most of the video production in Bali provide 3 video cameramen for wedding. 4 cameramen just to make it more secure since electronics things like camera, memory cards could be broken any time without prior notification. However, if the company just provide 2 cameramen then you have to pray harder that everything must works well.
Cooperation is the key
Most professional wedding photography and video services employ multiple shooters. As for example, when the bride walks down the aisle, one camera will be focused on her, another on the groom and a third one may capture the reaction of the guests.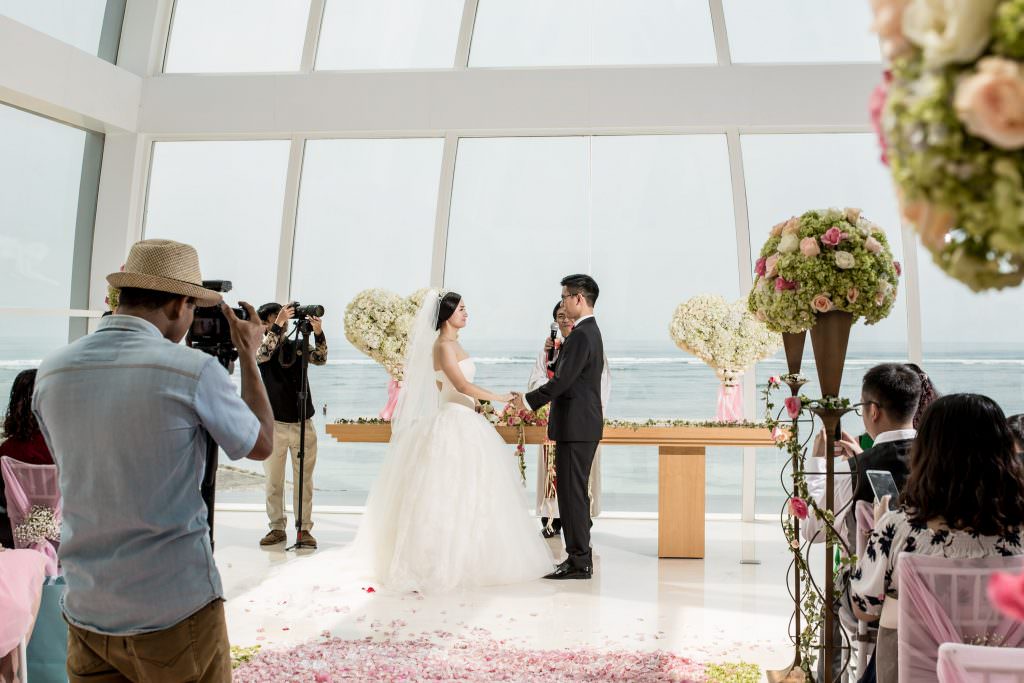 If you want, they will increase the number of crews to shoot the wedding. In that case, there is a possibility of mismanagement and the photographers may collide into each other and block each other's views. Like the photos in this page, you could find the video crew too near and blocking the view of anyone including the photographers as well. Mostly, this case caused by lack of proper equipment or lenses. Please choose a video company that can provide their crews with good and proper equipment.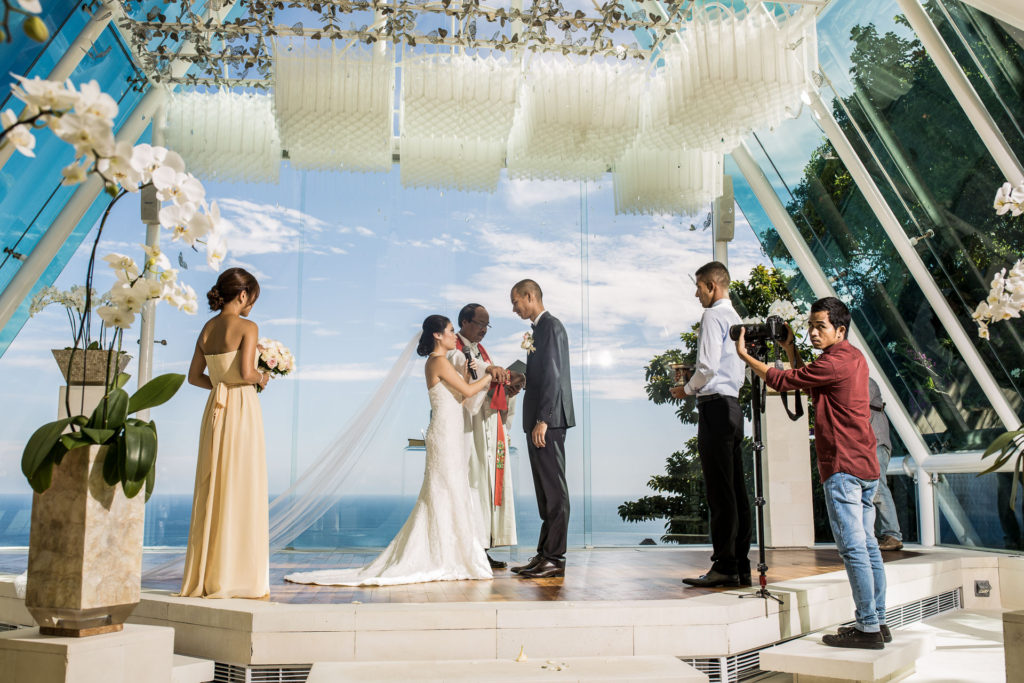 One way that Bali wedding photographers solve this issue is by working as a team. When you work as a team and cooperate with each other, you will not interfere with others' work. The photographers find their own place and perfect angles to shoot the wedding from different positions.
These some video companies which we consider good in cooperation, proper equipment and good result:
-. Aile Studio
-. Bali Photo Cinema
If you are in tight budget and want smaller package then you might consider:
-. Big Ants Film
-. K's Filmcraft